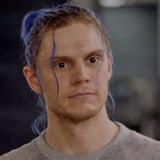 So far, American Horror Story's seventh season, Cult, has given us plenty of meaty theories to sink our speculating claws into. From simple questions about who some Ryan Murphy favorites will be playing (Lily Rabe as Sharon Tate would be spot-on, no?) to why we shouldn't trust Ivy (Alison Pill), there's a lot to unpack. Now it's time to add another whopper of a theory to the pile: who is the leader of the titular cult?
For a while now, we've assumed the people in charge of the pack of roving killer clowns are Kai Anderson (Evan Peters, playing the town's Donald Trump-worshiping psychopath), his sister Winter (Billie Lourd), and Ivy. But what if they're not the architects of the deranged unpleasantness Ally (Sarah Paulson) is experiencing after all? Reddit user StripperGirlDelilah (we're assuming that's their real name as well) recently posed a very interesting take on season seven's big bad.
Wouldn't it stand to reason that the true leader of the cult is a queen bee of sorts?
The promotional campaign leading up to season seven's premiere was full of bee and hive imagery. On top of that, the show makes a big to-do about introducing a literal hive mind in episode two when Ivy and Ally's new neighbor reveals his beekeeping hobby. Wouldn't it stand to reason that the true leader of the cult will end up being a queen bee of sorts? As StripperGirlDelilah points out, «The queen bee is kept inside the hive at all times for protection.» And remember that mysterious closed door with the flower we see in the first episode in Kai and Winter's home? That might be where the queen bee, likely the mother of Kai and Winter, is hiding out.
If true, it would explain some of the Anderson siblings' weirder traits. For starters, Kai has blue hair and Winter's is white — with the show's overt political themes, the Anderson matriarch's hair is probably red (and perhaps signals another appearance from Murphy's beloved Frances Conroy). In a hive, the queen is the only sexually mature female, but there are a few other female bees on hand to become queen in case she dies. Winter's obvious anxiety around children could be a sign that she's not looking forward to the day she has to take over and have kids of her own for «weird culty reasons.»
During episode four, «11/9,» we see how a manipulative Kai recruits cult members, and the insanely twisted tactics he uses to exert control over these angry individuals. If StripperGirlDelilah's theory is right, his recruiting skills are guaranteed to make the Anderson matriarch proud.
It's a long shot, but we'd be lying if we said we weren't just a little convinced. Check out the theory in full below!