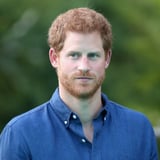 Image Source: Getty / Chris Jackson
Prince Harry has been opening up more and more in recent years about the tragic loss of his mother, Princess Diana, when he was just 12 years old. Both Harry and his brother, Prince William, have shared sweet stories about their late mother and expressed an unending commitment to carrying on her accessible lifestyle and philanthropic legacy.
In a revealing interview with Newsweek Harry divulged a handful of details about his life as a royal and the future of the British monarchy; he basically made it clear that he often wishes he wasn't a prince at all, and that there isn't «any one of the royal family who wants to be king or queen.» We also got some insight into his relationship with Kate Middleton, who he considers «the big sister he never had.» Read on for more interesting tidbits from Harry's latest interview.
He still gets overwhelmed when thinking about Diana's funeral. Harry readily admitted that his role in the public funeral — he and William walked solemnly behind Diana's horse-drawn casket with their father, grandfather, and uncle, Earl Spencer — was incredibly uncomfortable. «My mother had just died, and I had to walk a long way behind her coffin, surrounded by thousands of people watching me while millions more did on television.» he said, his face hardening. «I don't think any child should be asked to do that, under any circumstances. I don't think it would happen today.»
He acted out after Diana's death and was «very close» to breaking down. Harry admitted to being «scarred» by his mother's death, which led to drinking, smoking, and some unsavory public incidents — but he eventually did some soul-searching. «I needed to fix the mistakes I was making,» he said, admitting that bottling up his grief led to years of «total chaos» and that he was «very close» to a breakdown several times.
Prince William encouraged him to seek counseling. When he was 28, Harry sought professional help for his anxiety and grief on the advice of his older brother. «My mother died when I was very young. I didn't want to be in the position I was in, but I eventually pulled my head out of the sand, started listening to people and decided to use my role for good,» Harry said. «I am now fired up and energized and love charity stuff, meeting people, and making them laugh.»
His time in Afghanistan helped him cope with Diana's passing. «Being in the army was the best escape I've ever had. I felt as though I was really achieving something,» he said. «I also felt I was one of the lads and could forget I was Prince Harry when I was with them.»
His royal title wears on him. «I sometimes still feel I am living in a goldfish bowl, but I now manage it better,» Harry said. The 32-year-old also told his interviewer several times that he often longs to be «something other than Prince Harry.»
But don't worry . . . he's still kind of a bad boy. «I still have a naughty streak too, which I enjoy and is how I relate to those individuals who have got themselves into trouble,» Harry said.
He is appreciative of the relatively normal upbringing his mother gave him. «My mother took a huge part in showing me an ordinary life, including taking me and my brother to see homeless people,» Harry explained, adding, «Thank goodness I'm not completely cut off from reality. People would be amazed by the ordinary life William and I live.»
He does his own shopping, and has no plans to stop. «Sometimes, when I come away from the meat counter in my local supermarket, I worry someone will snap me with their phone,» he admitted. «But I am determined to have a relatively normal life, and if I am lucky enough to have children, they can have one too.» He paused, then added, «Even if I was king, I would do my own shopping.»
Image Source: Getty / Julian Parker
He believes in moving with the times, but also in preserving the «magic» of the monarchy. «It's a tricky balancing act,» he said. «We don't want to dilute the magic. The British public and the whole world need institutions like it.» He went on: «The monarchy is a force for good, and we want to carry on the positive atmosphere that the queen has achieved for over 60 years . . . but we won't be trying to fill her boots.»
Nobody in the royal family actually wants to take the throne. «We are involved in modernizing the British monarchy,» Harry said. «We are not doing this for ourselves but for the greater good of the people . . . Is there any one of the royal family who wants to be king or queen? I don't think so, but we will carry out our duties at the right time.»
He is dedicated to picking up where his mother left off. «I intuitively know what my mother would like me to do and want to progress with work she couldn't complete,» Harry said of his extensive charity work with HIV/AIDS. Of Diana, he continued: «She had the most wonderful sense of humor and always wanted to make things fun for us, as well as protect us.»
Kate Middleton has helped him cope with the loss of his mother. Harry considers Kate «the big sister he never had,» and often makes visits to her and William's Kensington Palace apartment for meals — roast chicken is a favorite.
He and William have very different personalities. A source close to the brothers revealed that they are «very unalike emotionally.» While William is «introverted and reclusive,» Harry is far more outgoing. «William was more successful academically, but when it comes to dealing with people, Harry knocks the spots off both him and Kate, especially with children,» the source added. «Harry is passionate about them and is a natural, which neither William nor Kate are.»
He's not in a rush to get married. Harry has been dating American actress Meghan Markle for over a year, but according to a source close to the prince, he's not in a hurry to «get things done» (the royal term for proposing marriage). «They obviously get on very well and have a lot in common, but they have not known each other that long,» the source said. «They need to find out if they can have an ordinary relationship within a very unusual setting. I don't think anything will happen until the end of the year.»
But he is in a rush to «make something» of his life. «I feel there is just a smallish window when people are interested in me before [Prince George and Princess Charlotte] take over, and I've got to make the most of it.»