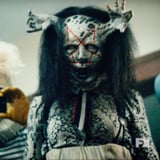 This week, we got closer than ever to uncovering the clowns' identities on American Horror Story: Cult. While no explicit reveals have been made on the show itself, there's plenty to go off of in the way of deductive reasoning and context clues. By the end of the fourth episode, «11/9,» we have a pretty good idea of who is in Kai's cult. From there, it's just a matter of mixing and matching. So, as we break ground on this suspect list, where do we begin? Luckily, AHS seems to have given us a definite answer completely on accident.
After this week's episode, we received our customary preview of the next week's chapter. In the clip, we see how tensions rise even more and how Kai's rhetoric is further fanning the fear of the community. We get to meet a new clown with a chilling elephant head. Also, we get a better idea of the storyline with the news station and up-and-coming reporter Beverly Hope (Adina Porter). There's even a «fake news» dig in there! Beverly, as we now know, is already in Kai's clan. So it's not shocking to guess that she's one of the clowns. Even so, there's one shot of the new preview that's pretty exciting and reveals exactly which masked murderer she plays.
As you can see, Beverly is wearing the exact outfit of the pentagram clown with hands coming out of its head. Right down to the pattern of the shirt and the suspenders. Of course, we'd already kind of deduced this was Beverly based on the fact that this clown in particular doesn't have an inch of exposed skin. Since Beverly is black, it makes sense that she'd hide her skin color. She doesn't want to risk being identified. Now, the real question is, what could she be showing Kai on her computer? It's only a matter of days before we find out.