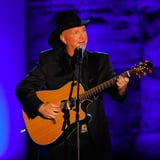 Garth Brooks Gives RMH Family His Guitar

Warning: This video will make you cry happy tears.

Yesterday, Mason's mom received the news she'd been waiting for: Mason is officially cancer-free!! She didn't think the day could get any better, but then this happened at the Garth Brooks concert at Scotiabank Saddledome!

A huge thank you to Karyn who surprised Gale with tickets after reading her family's story on Facebook last weekend (http://bit.ly/2vU9P6I).

#garthbrooks

Posted by Ronald McDonald House Charities® Southern Alberta on Saturday, September 2, 2017
A few hours before attending a Garth Brooks concert, Gale Granrude-Gariepy learned that her young son was officially cancer-free. Though Gale had won tickets through a charity organization, her son Mason was unable to attend because his immune system was still so weak. She decided to share the good news with everyone at the concert by taking a big poster that read, «Today my son is cancer-free.» Then something amazing happened.
During the concert, the country artist stopped the show to ask Gale about her message. After she explained Mason's story, Garth said, «As hard as that child has fought, I know that you have fought 100 times harder.» Motioning for a marker so that he could sign a guitar, Garth said, «I'll tell you what, I need you to take something to Mason for me.» Everyone in the stadium cheered as Gale was overcome with emotion. Garth finally added, «May you never have to work with the freaking c-word again . . . You have all of my strength and all of my joy. Congrats!»
Following the touching moment, Gale expressed her gratitude in a Facebook post, which included a picture of Mason holding the signed guitar, which he has been very «protective» of. Gale added, «My heart was overflowing with happiness. It has been overwhelming the love and support that we have received from day one. Your kindness and the love I felt from the dome was the best way to end this chapter.»