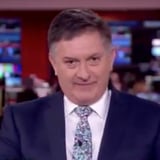 «Clear your diaries, get the time booked off» — @BBCSimonMcCoy announces royal baby due date in his unique way https://t.co/wiIIJXoRNt pic.twitter.com/cwcO03lS9t

— BBC News (UK) (@BBCNews) October 17, 2017
A little over a month after Kate Middleton and Prince William announced that they're expecting their third child, Kensington Palace confirmed this week that their new bundle of joy is due in April 2018. While a lot of people were excited by the news, others were . . . somewhat unimpressed.
BBC news reporter Simon McCoy was live on air when the announcement was made, and he relayed the information in his own unique way. «Now, bearing in mind that they announced that she was pregnant back in September, I'm not sure how much news this really is,» he said with a bit of a sarcastic laugh. «But anyway…clear your diaries, get the time booked off, cause that's what I'm doing.» Of course, Twitter users were quick to pick up on his funny report, and we have to agree with them: he did make us laugh!
Simon McCoy is the best newsreader in history. https://t.co/wCLns2671B

— David Lewis (@davidclewis) October 17, 2017
What a hero @BBCSimonMcCoy is https://t.co/xjUD2I3kBb

— Andrew Bardsley (@ABardsleyMEN) October 17, 2017
Classic from @BBCSimonMcCoy 😂 pic.twitter.com/Z5IACMWtfT

— Sean Arbuthnot (@Sean_Arbuthnot_) October 17, 2017
«Get the time booked off, that's what I'm doing» @BBCSimonMcCoy you make me belly laugh!!#royalbaby

— Dave Kelly (@davekellydj) October 17, 2017