18 Style Moments From Lollapalooza That We're Still Obsessing Over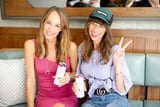 Figuring out what to wear to a music festival can be a tricky game — do you go for that cute mesh top even if there's a chance it could be cold, or do you play it smart and layer up? Do you stay safe and wear the chunky rain boots you hate, or take a risk and bust out those new sneakers you've been dying to show off? Festival style is no joke, especially at Lollapalooza.
Despite the weather conditions at the Chicago-based event this year (which included a rainstorm so bad that everyone was evacuated, NBD), plenty of festivalgoers we bumped into managed to mix the best of both worlds. From the streets of Grant Park to a rooftop Lollapalooza soirée thrown by POPSUGAR, we managed to find the festival's coolest looks.