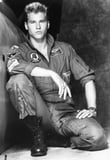 I spent many hours of my youth watching Top Gun — specifically, the volleyball scene, which was probably the first indication that I was into dudes. While many Top Gun viewers lusted after Tom Cruise's Maverick character (who, I'll admit, also filled out his jeans quite nicely), I always crushed harder on Val Kilmer, who played Iceman.
After that, I set out to familiarize myself with Kilmer's entire film catalog, starting with his role as a teen heartthrob in the comedy Top Secret. My crush deeply intensified at age 13, when Kilmer transformed himself to play Jim Morrison in The Doors, and I continued to admire his acting and his unconventional choice of roles over the years. (Side note: how hot is the name Val Kilmer?)
Sadly, 57-year-old Kilmer has been out of the public eye for a while; he acknowledged his battle with throat cancer publicly for the first time in May 2017. But he recently resurfaced to reassure fans that he's «still got it» should he be called up for the Top Gun sequel.
I've taken this as an opportunity to take a walk down memory lane with 40+ photos of Val Kilmer to remind myself that my decades-long crush is completely justified.