Before Gal Gadot Kicked Ass as Wonder Woman, She Slayed the Miss Universe Stage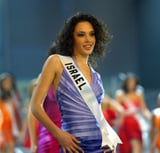 Is there anything Gal Gadot can't do? In addition to blowing audiences out of the water with her performance in Wonder Woman, the 32-year-old Israeli actress also does a lot of her own stunts, used to be in the Israeli military, has two seriously adorable daughters, and maintains an enviable relationship with her husband (with whom she used to run a luxury hotel, NBD). On top of all that, Gal also has «pageant queen» on her résumé.
When the aspiring star was only 19 years old, she competed in, and won, the 2004 Miss Israel pageant. With that huge honor under her belt, she moved on to the Miss Universe pageant in Quito, Ecuador, that same year, where she hit the stage in a gorgeous black evening gown (that slit!) and later in a colorful bikini. Jennifer Hawkins (aka Miss Australia) ended up taking home the big win, but fortunately these photos of Gal dancing with the other competitors will last forever.